1947 NY Yankees Team Signed World Series Game Used Baseball Joe Dimaggio JSA COA
Product Details
Store Categories
Store Newsletter
Add SHOWPIECES to your Favorites to receive our email newsletters about new items & special promotions.
SIGN UP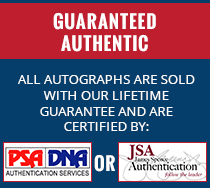 1947 NY Yankees Team Signed World Series Game Used Baseball Joe Dimaggio JSA COA
Click Thumbnails to Enlarge
Product Details
1947 New York Yankees World Champions Team Signed World Series Game Used American League Baseball. 20 signatures with Joe DImaggio, Phil Rizzuto, Yogi Berra, Bobby Brown, George Stirnweiss, Spud Chandler, Joe Page, Vic Raschi and many others. 
Comes with full letter JSA COA.
SHP#9416734