1960 Pittsburgh Pirates World Series Champs Signed Framed 16x20 Photo PSA DNA
Store Categories
Store Newsletter
Add SHOWPIECES to your Favorites to receive our email newsletters about new items & special promotions.
SIGN UP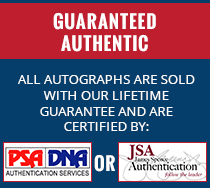 1960 Pittsburgh Pirates World Series Champs Signed Framed 16x20 Photo PSA DNA
Click Thumbnails to Enlarge
Product Details
Not only was the Pittsburgh Pirates' 1960 World Series triumph over the New York Yankees the event's most dramatic of all-time, but it was, with high probability, the most improbable! Outscored by an aggregate 55-27, the Bucs somehow managed not only to take matters to a decisive Game 7, but to win it on Bill Mazeroski's walk-off clout. This vintage team photograph is autographed by (25) members of that Fall Classic championship squad. Framed to 26-7/8 x 23", the 20x16" color photo features printed identifiers and is signed on the blank white section in black marker. The scriptings include: Baker, Burgess, Cheney, Christopher, Face, Francis, Friend, Gibbon, Groat, Green, Haddix, Labine, Law, Levy (coach), Bill Mazeroski, Narron (coach), Nelson, Oldis, Schofield, Skinner, Smith, Stuart, Vernon, Virdon and Witt. Accompanying is a full photo LOA from PSA/DNA.
#93178029
We accept Paypal. If you would like to pay with any other method please contact us.
We ship within one business day. Items are shipped with USPS.

Exported By ExportYourStore