Hank Greenberg, Joe DiMaggio, Gehringer Signed 1930's All Star Game TCMA BAS COA
Store Categories
Store Newsletter
Add SHOWPIECES to your Favorites to receive our email newsletters about new items & special promotions.
SIGN UP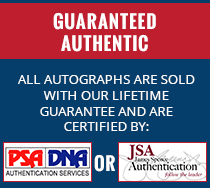 Hank Greenberg, Joe DiMaggio, Gehringer Signed 1930's All Star Game TCMA BAS COA
Click Thumbnails to Enlarge
Product Details
This 1977-84 TCMA Renata Galasso Glossy Greats card has been signed by five of the seven players pictured on the card. The photo was taken at an All Star Game in the 1930's. Signatures include: Joe Cronin, Bill Dickey, Joe DiMaggio, Charlie Gehringer and Hank Greenberg. The item has been authenticated and slabbed by BAS.
#3262393
We accept Paypal. If you would like to pay with any other method please contact us.
We ship within one business day. Items are shipped with USPS.

Exported By ExportYourStore