1944 New York Giants Team Signed Baseball Joe Medwick Ernie Lombardi PSA DNA COA
Store Categories
Store Newsletter
Add SHOWPIECES to your Favorites to receive our email newsletters about new items & special promotions.
SIGN UP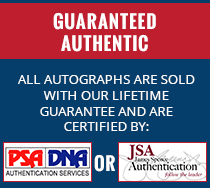 1944 New York Giants Team Signed Baseball Joe Medwick Ernie Lombardi PSA DNA COA
Click Thumbnails to Enlarge
Product Details
Sporting strong signatures of Ernie Lombardi, and Joe Medwick, along with 21 other members of the 1944 New York Giants, this Spalding Official League ball is an amazing piece of baseball history. This ancient sphere is still very white with mostly mid to upper level strength signatures. Includes Hausmann, Jonnard and Mancuso on the sweet spot with Luque, Gee, Jurges, Feldman, Pyle, Rucker, Brewer, Sloan, Luby, Berres, Kerr, Voiselle, Fisher, Allen, Treadway, Allen and Reyes. Mel Ott is clubhouse. LOA from PSA/DNA.
SPS Item#92572936
We accept Paypal. If you would like to pay with any other method please contact us.
We ship within one business day. Items are shipped with USPS.

Exported By ExportYourStore