1965 Los Angeles Dodgers World Series Champs Team Signed Game Used Bat PSA DNA
Store Categories
Store Newsletter
Add SHOWPIECES to your Favorites to receive our email newsletters about new items & special promotions.
SIGN UP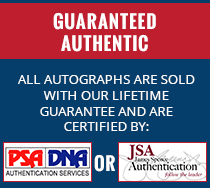 1965 Los Angeles Dodgers World Series Champs Team Signed Game Used Bat PSA DNA
Click Thumbnails to Enlarge
Product Details
With the New York Yankees having endured their first losing campaign in 40 years, the National League champion Los Angeles Dodgers focused elsewhere as October of '65 approached. While the Bronx Bombers had been the Dodgers' opponent in eight of the latter's nine World Series appearances (dating back to 1941), the '65 Junior Circuit titlists hailed from Minnesota, where remnants of the original Washington Senators franchise advanced to the World Series. Holding the Twins to a paltry .195 team average, the Dodgers prevailed in a 7-game Fall Classic.
Commemorating that 1965 championship season, this beautiful blond Wally Moon H&B professional model game used bat measures 34-1/2" long and weighs in at 33-1/2 ounces. Bat shows evidence of light use. The apparent initials "JK" are written in black marker on the bottom of the knob which is stamped with the M159 model number. Twenty-eight members of the 1965 Dodgers team have signed the bat in period black marker including Sandy Koufax, Walt Alston, Don Drysdale, Gilliam, Torborg, Moon, Perranoski, Wills, Roseboro, Willie Davis and many others. The evenly matched strong signatures give the item superb overall display quality. Full letter COA from PSA DNA. 
PSA/DNA Certification #AE06947
It is the opinion of PSA/DNA Authentication Services that the signature(s) listed below is/are genuine. According to the Certification Database, this item is defined as follows:
Cert
AE06947
Item
Bat
1965 Los Angeles Dodgers
Primary Subjects
WALTER ALSTON
SANDY KOUFAX
DON DRYSDALE
JIM GILLIAM
JOHNNY PODRES
JOHN ROSEBORO
MAURY WILLS

Other Subjects
JIM BREWER
RON FAIRLY
PRESTON GOMEZ
LOU JOHNSON
MIKE KEKICH
JOHN KENNEDY
JIM LEFEBVRE
DON LEJOHN
BOB MILLER
WALLY MOON
CLAUDE OSTEEN
WES PARKER
RON PERRANOSKI
LEFTY PHILLIPS
JOHN PURDIN
HOWIE REED
JEFF TORBORG
DICK TRACEWSKI
NICK WILLHITE

Country of Origin
USA
Make
Hillerich & Bradsby
Result
Authentic
#3591812
We accept Paypal. If you would like to pay with any other method please contact us.
We ship within one business day. Items are shipped with USPS.

Exported By ExportYourStore