1983 All Star Game Signed Baseball 30 Sigs! Cal Ripken Carl Yastrzemski PSA DNA
Store Categories
Store Newsletter
Add SHOWPIECES to your Favorites to receive our email newsletters about new items & special promotions.
SIGN UP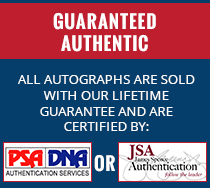 1983 All Star Game Signed Baseball 30 Sigs! Cal Ripken Carl Yastrzemski PSA DNA
Click Thumbnails to Enlarge
Product Details
1983 All Star Game Signed American League Baseball With 30 signatures. PSA DNA COA.
PSA/DNA Certification #AD05988
It is the opinion of PSA/DNA Authentication Services that the signature(s) listed below is/are genuine. According to the Certification Database, this item is defined as follows:
Cert
AD05988
Item
Baseball
Primary Subjects
RICKEY HENDERSON
CAL RIPKEN JR.
GEORGE BRETT
DAVE WINFIELD
CARL YASTRZEMSKI
EDDIE MURRAY
JIM RICE
ROBIN YOUNT
HARVEY KUENN
RON GUIDRY

Other Subjects
TED SIMMONS
DAN QUISENBERRY
JOE ALTOBELLI
BOB BOONE
CECIL COOPER
DOUG DECINCES
RICK HONEYCUTT
RON KITTLE
AURELIO LOPEZ
FRED LYNN
LANCE PARRISH
BOB STANLEY
DAVE STIEB
RICK SUTCLIFFE
MANNY TRILLO
GARY WARD
LOU WHITAKER
WILLIE WILSON
MATT YOUNG
SPS Item#923174
We accept Paypal. If you would like to pay with any other method please contact us.
We ship within one business day. Items are shipped with USPS.

Exported By ExportYourStore