1990 New York Giants Super Bowl Champs Team Signed Jersey 33 Sigs With JSA COA
Store Categories
Store Newsletter
Add SHOWPIECES to your Favorites to receive our email newsletters about new items & special promotions.
SIGN UP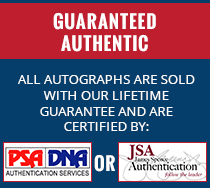 1990 New York Giants Super Bowl Champs Team Signed Jersey 33 Sigs With JSA COA
Click Thumbnails to Enlarge
Product Details
Their championship season culminating on the infamous call of "Wide right," the 1990 New York Giants emerged as Super Bowl champions for the second time in five years. This commemorative jersey is autographed by (33) members of that victorious squad. The blue mesh pullover garment features "90" sewn to the front, back and sleeves in white-on-red twill and "CHAMPIONS" sewn to a nameplate atop the back number in solid white block-style twill. On the back numerals, blue marker autographs have endured fading, yet still maintain ("4-5") strength on the average. Highlights include: Baker (inscribed "85"), Banks (inscribed "58"), Bavaro (inscribed "89"), Hostetler (inscribed "15"), Meggett (inscribed "30"), Oates (inscribed "65"), Taylor ("7" strength), Washington (inscribed "73") and Williams (inscribed "23
"). Accompanying is a full photo LOA from JSA.
#36123672
We accept Paypal. If you would like to pay with any other method please contact us.
We ship within one business day. Items are shipped with USPS.

Exported By ExportYourStore