1994 All Star Game NL Team Signed Baseball Bonds Maddux Gwynn Biggio PSA DNA COA
Store Categories
Store Newsletter
Add SHOWPIECES to your Favorites to receive our email newsletters about new items & special promotions.
SIGN UP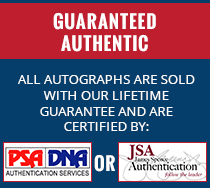 1994 All Star Game NL Team Signed Baseball Bonds Maddux Gwynn Biggio PSA DNA COA
Click Thumbnails to Enlarge
Product Details
1994 All Star Game National League team signed Rawlings Official All Star Game Baseball. 31 signatures including Barry Bonds, Greg Maddux, Tony Gwynn, Barry Larkin, Craig Biggio, Jeff Bagwell, Ozzie Smith, Ken Caminiti, Fred McGriff, Rod Beck, Jim Leyland, Jim Fergosi, Matt Williams, Bret Saberhagen, Dusty Baker and many others. Comes with full letter COA from PSA DNA. 
SHP#369103
We accept Paypal. If you would like to pay with any other method please contact us.
We ship within one business day. Items are shipped with USPS.

Exported By ExportYourStore