Beautiful 1959 St. Louis Cardinals Team Signed Baseball 24 Sigs Stan Musial JSA
Store Categories
Store Newsletter
Add SHOWPIECES to your Favorites to receive our email newsletters about new items & special promotions.
SIGN UP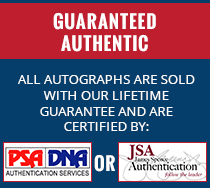 Beautiful 1959 St. Louis Cardinals Team Signed Baseball 24 Sigs Stan Musial JSA
Click Thumbnails to Enlarge
Product Details
 Beautiful 1959 St. Louis Cardinals Team Signed Official National League (Giles) ball is signed by 24 members. The baseball's stampings are deep and the signatures rich in quality. All of the autographs are "9" in strength or better. Those who signed include: Stan Musial, Ken Boyer, Curt Flood, Marshall Bridges, Vinegar Bend Mizell, Solly Hemus  Ernie Broglio,  Ray Katt, Joe Cunningham,  Ray Jablonski, Larry Jackson,  Johnny Keane,  Lindy McDaniel,  Gene Oliver, , Hal Smith, Bill White, George Crowe, Marv Grissom, Bob Smith, Alex Kellner, Gary Blaylock, Lee Tate and Johnny Keane. Rare Ken Boyer signature. Ken Boyer Boyer died from cancer in St. Louis on September 7, 1982, at the age of 51. Full letter JSA COA. 
#9312736
DRAWER #4
We accept Paypal. If you would like to pay with any other method please contact us.
We ship within one business day. Items are shipped with USPS.

Exported By ExportYourStore