Beautiful Rookie Of The Year Multi Signed Baseball 15 Sigs Cal Ripken Jr PSA DNA
Store Categories
Store Newsletter
Add SHOWPIECES to your Favorites to receive our email newsletters about new items & special promotions.
SIGN UP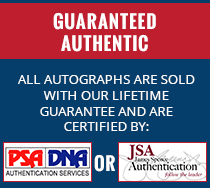 Beautiful Rookie Of The Year Multi Signed Baseball 15 Sigs Cal Ripken Jr PSA DNA
Click Thumbnails to Enlarge
Product Details
 A snow-white Official Major League Baseball signed in blue ballpoint (average "10" strength) by (15) with: Sweet Spot: Cal Ripken, Jr. (inscribed "1982 AL ROY"); North Panel:Joe Charboneau (inscribed "80 AL ROY"), Gregg Olson (inscribed "89 AL ROY"), Chris Chambliss (inscribed "71 AL ROY") South Panel: Al Bumbry (inscribed "73 AL R.O.Y."); Rod Carew(inscribed "67 A.L. ROY"), Pat Listach (inscribed "92 AL ROY"); West Panel: Stan Bahnsen (inscribed "68 A.L. ROY"), Ron Kittle (inscribed "83 AL ROY"), Ron Hansen (inscribed "1960 AL ROY"), Don Schwall (inscribed "1961 AL ROY"); East Panel: Gil McDougald (inscribed "1961 AL ROY"), Fred Lynn (inscribed "1975 AL ROY"), Gary Peters (inscribed "1963 AL ROY"), Bob Hamelin (inscribed "ROY 94"). 
Full letter COA from JSA. 
#9266372
DRAWER #1
We accept Paypal. If you would like to pay with any other method please contact us.
We ship within one business day. Items are shipped with USPS.

Exported By ExportYourStore