Extraordinary Hank Greenberg 1943 World War 2 Army Team Signed Baseball JSA WWII
Store Categories
Store Newsletter
Add SHOWPIECES to your Favorites to receive our email newsletters about new items & special promotions.
SIGN UP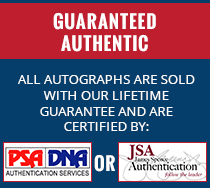 Extraordinary Hank Greenberg 1943 World War 2 Army Team Signed Baseball JSA WWII
Click Thumbnails to Enlarge
Product Details
This ball reflects Hank Greenberg's service during World War II. Beginning in 1941 Hank Greenberg selflessly gave up four and a half seasons worth of his career to the Army Air Corps. Before Captain Greenberg shipped out to the Pacific, he was selected to appear in the August 26, 1943 War Bonds All-Star Game at the Polo Grounds. The game was noteworthy for the 12 living Hall of Famers who appeared on field in their old uniforms, most for the final time. Greenberg played for the Camp Cumberland team which featured many former Big Leaguers such as Enos Slaughter, Johnny Beazley and Sid Hudson. The Army team faced a combined MLB All-Star team with future Hall of Famers Joe Medwick, Arky Vaughan, Carl Hubbell and Bill Dickey. The army rapped out 14 hits but lost to the Major Leaguers, 5-2. The game reportedly drew 38,000 and raised $800 million in war bonds.
To remember what could have been his last game, Greenberg had his army team sign a ball for him. The Spalding Official Pro-League ball collects the signatures of 20 players including Billy Hitchcock, Pat Mullin, Elmer Valo, Danny Murtaugh, Birdie Tebbetts (SS), Hudson, Tommy Hughes, Beazley, Hank Gowdy (who served in both World Wars), Harry Eisenstadt, Fred Frankhouse, Eddie Waitkus, Enos Slaughter (HOF) and Hank Greenberg (HOF). All 21 have signed in strong black steel-tip fountain pen. The ball has been given a coat of shellac which has aged to a golden color under which the signatures have been very well-preserved. The Spalding trademark and manufacturer stampings have all been blackened out for some reason, but did not affect any of the autographs. Comes with full letter COA from JSA. 
#9516827
D#23
We accept Paypal. If you would like to pay with any other method please contact us.
We ship within one business day. Items are shipped with USPS.

Exported By ExportYourStore