Nice Gold Glove Winners Multi Signed Baseball 15 Sigs Carlton Fisk PSA DNA COA
Store Categories
Store Newsletter
Add SHOWPIECES to your Favorites to receive our email newsletters about new items & special promotions.
SIGN UP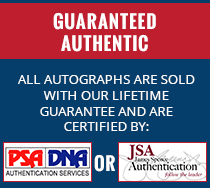 Nice Gold Glove Winners Multi Signed Baseball 15 Sigs Carlton Fisk PSA DNA COA
Click Thumbnails to Enlarge
Product Details
PSA/DNA Certification #AE07952
It is the opinion of PSA/DNA Authentication Services that the signature(s) listed below is/are genuine. According to the Certification Database, this item is defined as follows:
Cert
AE07952
Item
Baseball
Primary Subjects
LUIS APARICIO
CARLTON FISK
JIM PALMER
RON GUIDRY
GRAIG NETTLES
BOBBY RICHARDSON
TOM TRESH

Other Subjects
BOBBY SHANTZ
JESSE BARFIELD
PAUL BLAIR
TONY FERNANDEZ
AMOS OTIS
JOE PEPITONE
JIM PIERSALL
GEORGE SCOTT

Overall Result
Authentic
#9107386
We accept Paypal. If you would like to pay with any other method please contact us.
We ship within one business day. Items are shipped with USPS.

Exported By ExportYourStore