President Ronald Reagan Signed 1976 "On To Victory" Invitation With JSA COA RARE
Store Categories
Store Newsletter
Add SHOWPIECES to your Favorites to receive our email newsletters about new items & special promotions.
SIGN UP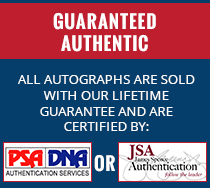 President Ronald Reagan Signed 1976 "On To Victory" Invitation With JSA COA RARE
Click Thumbnails to Enlarge
Product Details
Ronald Reagan will be remembered as one of the top Commanders in Chief.  His signature is coveted by presidential collectors far and wide. This signature was obtained during his Presidential run during 1976.
In 1976, Reagan challenged incumbent President Gerald Ford in a bid to become the Republican Party's candidate for president. Reagan soon established himself as the conservative candidate with the support of like-minded organizations such as the American Conservative Union, which became key components of his political base, while Ford was considered a more moderate Republican.
An astute donor had Reagan sign this invitation (4.25″ x 5.50″) to the "The Presidentials" – "On to Victory Party" held at the Crown Center Hotel – Centennial Ballroom in Kansas City on August 19, 1975. It was signed up top in black felt tip by the soon-to-be President (he got the nomination in 1980 and won). The entire world mourned when Reagan died in 2004. A truly great American was lost forever.
Authentication: JSA Full Letter COA.
#37240928
We accept Paypal. If you would like to pay with any other method please contact us.
We ship within one business day. Items are shipped with USPS.

Exported By ExportYourStore