RARE 2006 Team USA WBC Team Signed Jersey David Price Jake Arrieta 22 Sigs SGC
Store Categories
Store Newsletter
Add SHOWPIECES to your Favorites to receive our email newsletters about new items & special promotions.
SIGN UP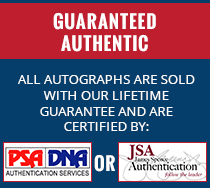 RARE 2006 Team USA WBC Team Signed Jersey David Price Jake Arrieta 22 Sigs SGC
Click Thumbnails to Enlarge
Product Details
2006 Collegiate National Baseball Team Signed Jersey Crawford Price Arrieta SGC
This is a 2006 WBC jersey signed by 20 of the 22 members of the 2006 Collegiate National Baseball Team that won the gold medal that year. The jersey has a few small ink marks ect. Below is a list of all 22 members of the team. SGC Hologram. 
Alvarez Pedro 3B L/R 6-2 212 2-6-87 New York, N.Y. Vanderbilt Fr. 
Arencibia J.P. C R/R 6-1 195 1-5-86 Miami, Fla. Tennessee So. 
Arrieta Jake RHP R/R 6-4 225 3-6-86 Plano, Texas TCU So. 
Barney Darwin SS R/R 5-10 175 11-8-85 Beaverton, Ore. Oregon State So. 
Borbon Julio OF L/L 6-1 190 2-20-86 Santo Domingo, D.R. Tennessee So. 
Brackman Andrew RHP R/R 6-10 235 12-4-85 Cincinnati, Ohio NC State So. 
Clark Preston C R/R 5-11 210 8-16-85 Rockwall, Texas Texas Fr. 
Cozart Zack SS R/R 6-1 180 8-12-85 Collierville, Tenn. Ole Miss So. 
Crawford Brandon SS L/R 6-2 198 1-21-87 Pleasanton, Calif. UCLA Fr. 
Detwiler Ross LHP R/L 6-4 180 3-6-86 Wentzville, Mo. Missouri State So. 
Doolittle Sean LHP/IF L/L 6-2 175 9-26-86 Tabernacle, N.J. Virginia So. 
Federowicz Tim C/1B R/R 5-9 180 8-5-87 Apex, N.C. North Carolina Fr. 
Frazier Todd SS R/R 6-4 215 2-12-86 Toms River, N.J. Rutgers So. 
Hill Nick LHP L/L 6-1 185 1-30-85 Bluff City, Tenn. Army Jr. 
Hunter Tommy RHP R/R 6-4 255 7-3-86 Indianapolis, Ind. Alabama Fr. 
Kieschnick Roger OF L/R 6-3 200 1/21/87 Rockwall, Texas Texas Tech Fr. 
Moskos Daniel LHP R/L 6-2 205 4-28-86 Alta Loma, Calif. Clemson So. 
Price David LHP L/L 6-6 215 8-26-85 Murfreesboro, Tenn. Vanderbilt So. 
Schmidt Nick RHP L/L 6-5 220 10-10-85 St. Louis, Mo. Arkansas So. 
St. Clair Cole LHP L/L 6-5 225 7-30-86 Santa Ana, Calif. Rice So. 
Weathers Casey RHP R/R 6-0 195 6-10-85 Elk Grove, Calif. Vanderbilt 
Jr. Weeks Jemile IF S/R 5-9 155 1-26-87 Altamonte Springs, Fla. Miami Fr.
#4627800
We accept Paypal. If you would like to pay with any other method please contact us.
We ship within one business day. Items are shipped with USPS.

Exported By ExportYourStore