Stunning New York Yankees Legends & HOF Multi Signed Bat 44 Signatures PSA DNA
Store Categories
Store Newsletter
Add SHOWPIECES to your Favorites to receive our email newsletters about new items & special promotions.
SIGN UP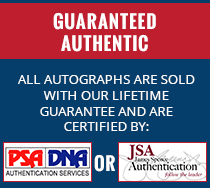 Stunning New York Yankees Legends & HOF Multi Signed Bat 44 Signatures PSA DNA
Click Thumbnails to Enlarge
Product Details
Turned by the Cooperstown Bat Co. in 1989, this "Major League Team Series" commemorative model pays homage to the New York Yankees, with a colorful barrel design listing the impressive World Series Championship count (which has since grown by five) and the equally inspiring American League Pennant total (to which you can add seven). But the real treat is an assortment of bold autographs! Executed in bold fiber tip marker, the 44 autographs include: Bernie Allen, Steve Barber, Hank Bauer, Don Baylor, Yogi Berra (inscribed "HOF 72"), Paul Blair, Johnny Blanchard, Ed Brinkman, Hal Brown, Lew Burdette, Andy Carey, Tex Clevenger, Casey Cox, Rick Dempsey, Pat Dobson, Whitey Ford (inscribed "HOF 74"), Bill Gardner, Bob Hale, Tom Henrich, Catfish Hunter (inscribed "HOF 87"), Don Larsen, Bob Lemon(inscribed "HOF 76"), Sparky Lyle, Tippy Martinez, Bobby Murcer, Graig Nettles, Joe Pepitone, Gaylord Perry (inscribed "HOF 91"), Pedro Ramos, Bobby Richardson, Phil Rizzuto (inscribed "HOF 94"), John Sain, Dick Schofield, Bobby Shantz, Spec Shea, Moose Skowron, Enos Slaughter (inscribed "HOF 1985"), Ralph Terry, Gus Triandos, Virgil Trucks, Bob Turley, Roy White, Gene Woodling and some others. Full PSA DNA COA. 
#3615844
Bin #1
We accept Paypal. If you would like to pay with any other method please contact us.
We ship within one business day. Items are shipped with USPS.

Exported By ExportYourStore