The Final Out Baseball Of The 1999 World Series Signed By Mariano Rivera PSA DNA
Store Categories
Store Newsletter
Add SHOWPIECES to your Favorites to receive our email newsletters about new items & special promotions.
SIGN UP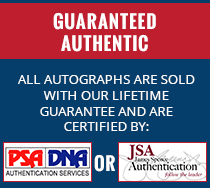 The Final Out Baseball Of The 1999 World Series Signed By Mariano Rivera PSA DNA
Click Thumbnails to Enlarge
Product Details
If the Yankees were ahead and the game was close, "Enter Sandman." No relief pitcher in history was as reliable in the regular season and as dominant in the postseason as Mariano Rivera. In the 1999 World Series against the Braves, the MLB's all-time leader in saves was called upon in the 8th inning of Game 1 and recorded four outs for his fifth save of the '99 playoffs. In doing so, Mo protected El Duque's outstanding start (7 IP, 10 K's) in leading New York to a key 4-1 win at Turner Field in Atlanta. This set the tone for the rest of the series as the Yanks swept the Bravos for their third title in four years -- they would make it four out of five the following season.
Presented here is the final out game ball from Game 1 of the '99 Fall Classic. The Official 1999 World Series baseball shows heavy use and soiling throughout. Rivera has autographed the Rawlings-branded panel in blue ballpoint and inscribed "Game Used Ball - 1999 W.S. Game #1 - Last Out" just above. The ball shows nice game use. In the 4-game sweep, Rivera tallied two saves and even got the win in Game 3 to earn Series MVP. He pitched 4-2/3 innings, surrendered just three hits and a walk, and did not allow a run.
This is a must-have game ball for a big-time Yankees collector. Includes full LOA from PSA/DNA and Steiner hologram (140344).
#470638733
We accept Paypal. If you would like to pay with any other method please contact us.
We ship within one business day. Items are shipped with USPS.

Exported By ExportYourStore