The Finest 1932 New York Giants Team Signed Baseball With Mel Ott PSA DNA COA
Store Categories
Store Newsletter
Add SHOWPIECES to your Favorites to receive our email newsletters about new items & special promotions.
SIGN UP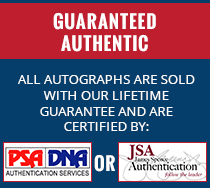 The Finest 1932 New York Giants Team Signed Baseball With Mel Ott PSA DNA COA
Click Thumbnails to Enlarge
Product Details
1932 New York Giants Team Signed Baseball. Essentially the same team that would conquer the Washington Senators in the 1933 World Series, this Polo Grounds club was anchored by a young slugger still signing his full "Melvin Ott" name, and a fellow Hall of Famer in pitcher Carl Hubbell. Each appears in strong black fountain pen ink on the Official National League Game Used (Heydler) ball, joined by twenty-three teammates including Travis Jackson, Freddie Lindstrom, Fitzsimmons, Luque, Hogan, Critz, Vergez and many more. Full letter COA from PSA DNA.
#91176476
We accept Paypal. If you would like to pay with any other method please contact us.
We ship within one business day. Items are shipped with USPS.

Exported By ExportYourStore