The Finest 1948 Cleveland Indians World Series Champs Team Signed Baseball JSA
Store Categories
Store Newsletter
Add SHOWPIECES to your Favorites to receive our email newsletters about new items & special promotions.
SIGN UP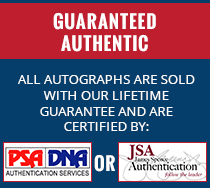 The Finest 1948 Cleveland Indians World Series Champs Team Signed Baseball JSA
Click Thumbnails to Enlarge
Product Details
Magnificent World Champion Cleveland Indians team signed baseball. The clean and creamy Official American League Harridge sphere is home to 33 strong blue ink steel tip fountain pen signatures. Also signed by a few Tigers players. Ball was signed on September 15, 1948 a few weeks before the World Series. Includes: Sweet Spot: Steve O'Neill (d.1962), Joe Tipton and Hal Newhouser; North Panel: Ed Klieman, Joe Gordon , Bob Lemon  Bob Feller , Newhouser, Lou Boudreau , Ken Keltner and Jim Hegan; South Panel: Thurman Tucker, Bill Sweeney (d.1957), Jimmy Outlaw, Vic Wertz, Hal Wagner, Al Benton, Satchel Paige and Mel Harder; West Panel: Dale Mitchell, George Kell , Johnny Lipon, Pat Mullin, Eddie Robinson and Allie Clark; East Panel: Russ Christopher, Steve Gromek, Eddie Lake, Ted Gray, Hal Peck and Sam Zoldak (d.1966); Reverse Sweet Spot: Don Black (d.1959) and Bob Kennedy. Accompanying is a full photo LOA from JSA.
SPS Item#27653827
We accept Paypal. If you would like to pay with any other method please contact us.
We ship within one business day. Items are shipped with USPS.

Exported By ExportYourStore