Ty Cobb Nap Lajoie Tris Speaker George Sisler HOF Induction Signed Bat PSA DNA
Store Categories
Store Newsletter
Add SHOWPIECES to your Favorites to receive our email newsletters about new items & special promotions.
SIGN UP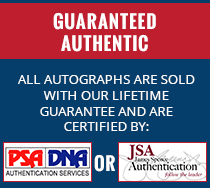 Ty Cobb Nap Lajoie Tris Speaker George Sisler HOF Induction Signed Bat PSA DNA
Click Thumbnails to Enlarge
Product Details
1955 Hall of Fame Induction Multi-Signed Bat. A small handwritten notation near the trademark of this (42" long) Hillerich & Bradsby reads "1955 Cooperstown Induction," and the roster of signers would appear to validate this date. The oversized barrel is adorned with a constellation of star autographs, though we must stipulate that the fountain pen ink used for their application has not weathered the passing decades as well as one might hope. 19 signatures. The following autographs remain quite readily legible: Mel Ott, Ty Cobb, Napoleon Nap Lajoie, Zack Wheat, Ed Walsh, Pie Traynor, Bill Terry, Ray Schalk, Hank Greenberg, Bill Dickey Dickey, Jocko Conlan, Dazzy Vance, Tris Speaker, Frank Home Run Baker, Joe McCarthy, Wahoo Sam Crawford, George Sisler, Charlie Gehringer, Frankie Frisch. The original owner of the bat has rounded out the full roster of Hall of Fame residents with hand printed names at the center of the bat, most of whom were already deceased at the time of the signing. In flawless condition the sky would be the limit for the price tag on this special relic, but there is still enormous appeal here as an object touched by a stunning array of diamond legends. Comes with two full letter Certificate Of Authenticity from PSA DNA. 
SPS Item#34611672
B#2
We accept Paypal. If you would like to pay with any other method please contact us.
We ship within one business day. Items are shipped with USPS.

Exported By ExportYourStore